While we were asleep Saturday night the Bunny made his stop with a basket full of goodies for Kaidence!
Her face was glowing with deight when she first saw her basket!
She investigated each thing very carefully, just to make sure Bunny didn't let her down.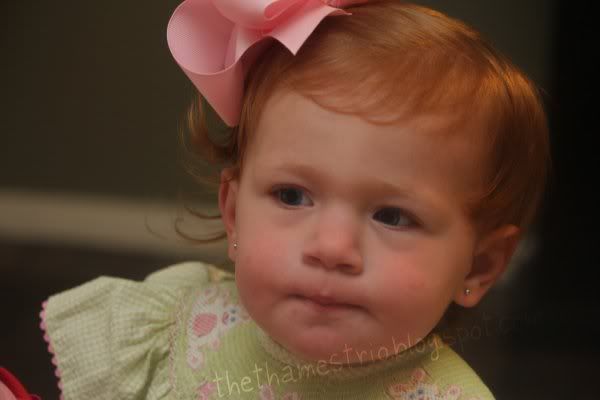 We went to our normal church for 8:30 service, and then we headed into Mobile to another church's 10:30 service that Josh was playing at.
After service they had an Easter egg hunt, and Kaidence got to find a few eggs.
While we were standing around talking, Kaidence and her little buddy Hunter found some opened jelly beans and helped themselves to them.
They were both covered in orange/yellow/pink!
I was freaking out too much to take a picture-ha!
We left church and headed to the Clement's house for Easter lunch and another egg hunt.
(Luckily, this momma planned ahead and had another outfit, too!)
Kaidence woke up super early, ate way too much candy, and didn't nap.
And, by the end of the day this was how she was feeling.
(her parents were too-ha!)