I didn't read her blog before, but I definitely do now!
She has a great taste in books and the cutest little dog, ever.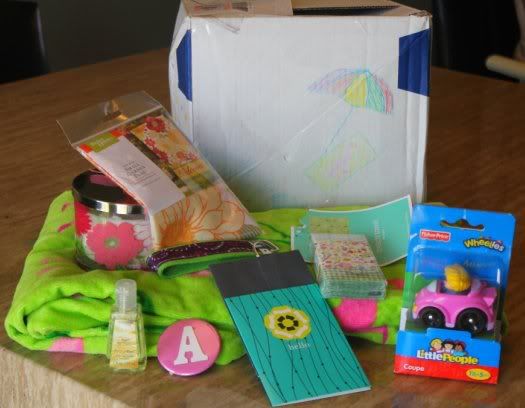 I got my package Tuesday, and couldn't wait to see what was inside!
She did great!!
I love candles, and this one is in a super cute jar which makes it even better!
Since we only live 30 minutes from the beach.. I, of course, love cute beach towels.
And, the garden flag? Perfect for Summer! Also perfect because we've had the same flag on our's for over 2 years -OOPS!
She was also thoughtful and included Kaidence a little something.
I finally opened it for her and she was thrilled! She called it a choo-choo-ha!
Thanks
Melanie
for all of our goodies!
We hope you enjoy your's as well :)
{...maybe your package will arrive today!}